Online video marketing is an important part of an overall web presence for any dental practice. Video clips are rapidly becoming part of the successful dentist's marketing toolbox.
This tutorial teaches dentists how to film patient testimonials, doctor website videos, and more.
The Dental Video Revolution Is Already Here!
Internet video is becoming increasingly important for even the average dental practice's marketing plan. It doesn't take a dental marketing genius to see that online videos are the next big thing.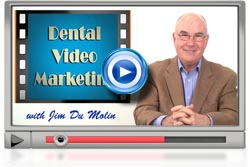 As part of this dental marketing tutorial, you get FIVE different video lessons:
Introduction to the Dental Video Revolution
How to Get the Absolutely Greatest Video Testimonials from Your Patients
Video Setup: All You Need To Know about Technology, Lighting & More
Script Strategy and Fill-in-the-Blank for Doctor Website Videos
Implementing Video Marketing on Your Dental Website
Videos personalize your website or Internet Dental Alliance web marketing portal and increase the conversion rate of visitors to patients in your chair.
This video tutorial can be implemented quickly, easily, and without any major investment in video technology! This is the future of dental marketing, folks. You would have to be brain-dead not to do it.
"The Dental Video Revolution" Video and Slide Presentation
Plus you get these bonuses: